Direct to Garment Printing | DTG Printing | Digital Printing
Digital DTG (Direct To Garment) Printing
How it's done
Direct To Garment printing is the newest and most exciting way to print onto garments. DTG digital garment printing involves the use of a highly modified inkjet printer with specially formulated garment inks which are heat set with a heat press or tunnel dryer.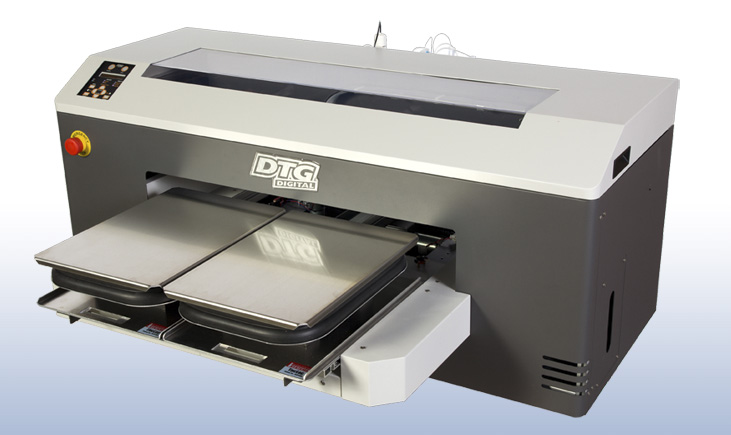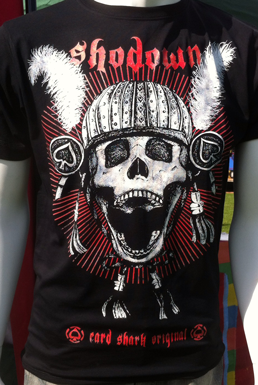 Example of an oversize DTG print for Card Shark Original Clothing Company.
Unlike screen printing artwork files, DTG files do not require any layer separation, or any films/screen prep.
Once your artwork is ready on the computer it is sent to the DTG printer which will print the artwork directly onto the garment.
Because of the lack of steps required for DTG, small orders or "one offs" can be quickly and economically produced in a seemingly infinite number of colours – whilst also handling complex artwork with ease.
Production times for DTG is similar to transfer printing, but much quicker than screen printing on low quantity jobs. With DTG digital to garment printing there is virtually no "hand" (common term in the industry referring to how a garment feels once the design has been printed on it) on light and white garments and minimal feel on dark garments.
Pros
Cheaper than screen printing – for low quantity orders

No set up fees

Very few artwork limitations, so great for replicating photographs, illustrations or full-colour designs

Quick turnaround
Cons
Unable to match Pantone colours exactly

The print may feel slightly 'thicker' on coloured and dark garments compared to printing onto white due to the underbase layer
What files types need to be supplied when DTG printing?
Good quality, hi-resolution .JPG, .PSD or .PNG files.
If you've created your artwork in Adobe Photoshop, please save your file at least 100% of your required print size with a transparent background.
Please provide artwork at a minimum of 300 dpi.
Other file types we accept for DTG printing is Adobe Illustrator vector based files – .EPS, .AI or .PDF.
When providing vector based artwork please be sure all your fonts and strokes are outlined.
To find out more about our DTG printing services Contact Us or call us on 01473 414022
Are there any garments that take to DTG printing better than others?
For the best results print onto items with a tighter weave (DTG will print better onto t-shirts rather than polo shirts for example). A garment with a fabric composition of 100% cotton or a poly cotton blend will produce excellent print results. Other fabric types such as nylon or polyester shouldn't be DTG printed. Transfer printing would be advised here.
---
Other Printing Services